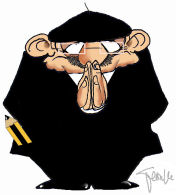 Caricature artist George
Caricatures from US$39.99
Orders are completed on a first come first served basis, so please continue to order to secure your spot
Click the flag at the bottom of this page for your currency>
Note!! George is just one of our characture artists - get introduced to the other seven here
George is our original artist and offers a distinctive style. Famous in Europe and the USA, George is respected by his caracaturist peers for his skills and talents. These he shares by attending by being an invitated caricature instructor, and teacher in art and drawing classes at educational institutions around the world.
George, who has received many awards in relation to his caricature artwork, is highly skilled and after hand outlining your job and final digital airbrushing he will provide:
Amazing head and shoulders caricature drawings,
Fun full body perspectives,
Full body in scenario
George gets to the essence of the persona of the photograph by honing in on the classic caricaturised features
All work is delivered by email
:: Guarantee of satisfaction ::
George guarantees you will be satisfied!
:: Samples ::
View samples of George's work here
.
:: Ordering ::

DISCOUNTS
If ordering more than one caricature, you can specify the quantity in the ordering process.
Prices are determined
per person
, with discounts when there are more than two people in the caricature.
Discounts are:
2 people = 8%,
3 people = 11%,
4 people = 15%,
5 people = 20%.
6+ people = 25%
Really big groups - quote
The discount is applied on the order page and is shown as reduced amount per person. If you are unsure or have special complex props etc, please
contact us
.


Pricing and ordering in Aust$

Pricing and ordering in US$

Pricing and ordering in EURO
*Once payment has been made
*
, your amazing caricature will be drawn by George before being
delivered to you by email
.
:: What customers are saying ::
The caricature final is fantastic, wonderful, awesome! I love it.
This entire process has been easy and lots of fun—you and George have been great and I'll be sure to spread the word about how incredible you two are to work with. You've been the only company from the several I contacted who have been willing to work directly with me by keeping in touch (even when I probably drove you crazy) and letting me be part of the "team" throughout the entire process.
Lori
-
USA
Back to browsing caricature artists