Menu
The instant solution for hard-to-buy-for gift situations
The ultimate unique personalized gift - a Caricature Gift Certificate
Give an exclusive caricature gift for a wedding, birthday, retirement or even as an award or other gift giving situation. Let your gift recipient choose which talented artist they like and allow them to determine their preference for what is in the gift caricature image! Give a caricature gift certificate.
The perfect solution for an urgent last minute gift need.

How it works
You can order a certificate that corresponds to the value of one or the caricature products offered on our site. This is what the certificate that is emailed ready for you to print, looks like: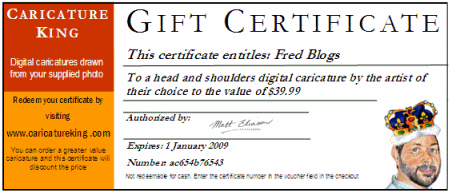 The recipient visits the site, browses the artists and places an order with the artist who's style they like. They then enter the certificate number into the voucher field and the amount is deducted from their order (back to $0 if they order that exact amount). If they choose a higher value product, then the voucher amount is deducted from the total.

Expiry
Gift certificates are valid for 12 months from date of issue.

Ordering
Please use the currency of your purchase from the drop-down selections below. After clicking 'Complete Your Order' you will enter the cart. Here, in the comments field, please
include the recipient/s name/s
for inclusion on the certificate. Note that discounts apply from 2 or more people and this is reflected in the price.
On processing of your order the certificate will be emailed to you as a PFD document ready for printing or forwarding by email.
Please allow up to 24 hours to receive the certificate.
Note: Gift Certificates are not refundable, nor returnable and cannot be redeemed for cash.
:: US Dollars ::
:: Aust Dollars ::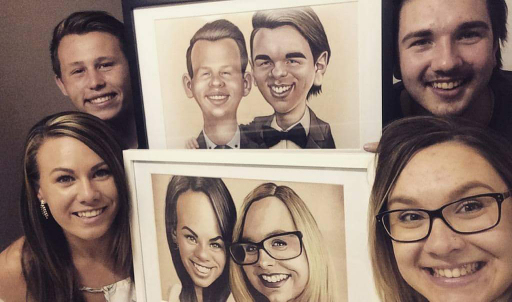 Back to browsing caricature artists