Menu
Order your amazing digital caricatures in US$
Order in Aust$ here or British Pounds here
Expert artists start with Fresh Ideas, not templates
Caricature King artists create fully unique artwork. All artists have formal art college/university training and decades of experience. Every order starts with your ideas, nothing premade is used.
Simple 5 click ordering
To order your caricature, please follow the simple 5 steps as they appear below. The next step appears as you make make each selection. You can make various selections to determine the total price (especially in professional printed options).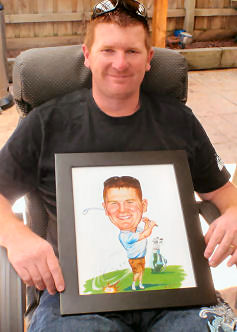 Discounts
Prices are determined per person and discounts automatically apply when there are two or more people in the caricature. Discounts are:
2 people = 8%,
3 people = 11%,
4 people = 15%,
5 people = 20%.
6+ people = 25%
Really big groups - quote

Sending your photos
Please email your photos NOW to photos@caricatureking.com. Please include instructions or requests with the email.

Please start by choosing color or black and white
Step 1. Choose Caricature Color:
(Please click an option below)
Caricature Price:
---
(Please complete all steps)