Menu
Valentines Day gift idea - caricatures
The perfect gift for your Valentine
A caricature IS a romantic gift - its all in the pose and the emotion you can portray! Include a romantic message for even more impact! And don't worry, your Valentine's Caricature is 100% unique - we don't start with templates. Have a look at some of the samples below for ideas.
Longer lasting than roses and less fattening than chocolate ;)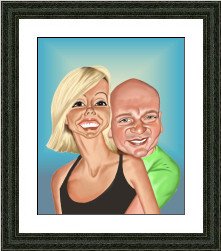 We include your special wording or poem for FREE!
Your special Valentines Day caricature can be in colour or black and white and our expert artists draw Valentines gift caricatures from your photo/s.
Don't forget, there is a discount of 8% for two people in the one image.
You can then use your caricature in one or more of these ways:
Screen saver
Poster print (or we can supply)
Print it and frame (or we can supply)
Canvas print (ask us, we can do it!)
Put it on apparel (via our accessories page)
Put it on a mug (via our accessories page)
As a wallpaper for your cell phone
Have it made into a jigsaw (works great for wedding proposals!)
Ordering
Look at the artist's samples from our experienced professional artists below - you can click through on their names to see more. Then simply click the flag of the currency of your choice to start the order process! Or click the flag here to get started now. Also email photos to us.
Questions? If you have ANY questions Contact us here or
Valentines Day gift caricature samples

By artist Eddie

By artist Darius

By artist Keimo

By artist Luis

By artist Zalo

By artist Zalo

By artist Zalo

By artist Eddie

By artist Eddie

By artist George

By artist George

By artist John

By artist Zalo

By artist George

By artist Zalo

By artist Keimo

By artist George

By artist Keimo

By artist Luis

By artist Luis
Back to browsing caricature artists