Menu
Caricature from photos
Our artists create your custom caricature from photos
We create wonderful caricature artwork simply by drawing from your reference photo.
Our group of talented artists use your supplied photo as the source for the caricature in just the same way as if you were actually sitting in front of them. By looking at the photo the artist draws your bespoke caricature in their own special way depending on their technique and final finishing style.
Your photo is important
Have the caricature drawn from photo in any pose, in any clothing. Your caricature from photos will be unique!
Important! Send good photos. See our photo guidelines here. If poor images are sent we WILL ask for better ones. If none can be sent, the artist will do his best, but you need to accept the result.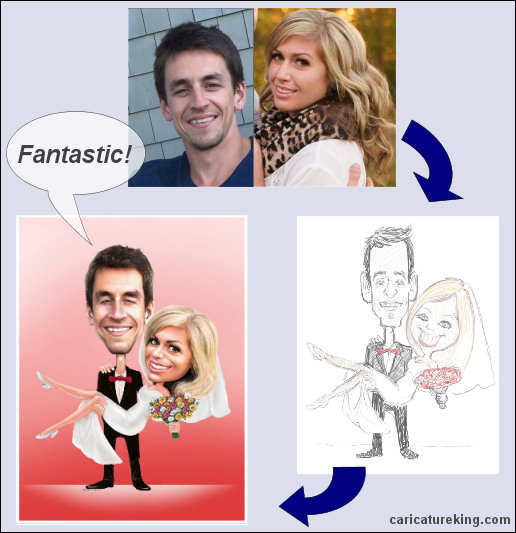 Example of photo -> draft -> caricature by Keimo.
Draft or direct to proof approach to caricature from photographs
Most artists draw the caricature from photos by looking at your photo and drawing the caricature using an advanced digital tablet or touch screen interface and using a digital pen. Zalo works on paper then scans the final result. Most artists do a draft caricature from the photo's while some work direct to final proof. Either way does not mean that changes cannot still be made (but are rarely required with good direction) but be aware you are buying the artist's interpretation!
Need a whole of workplace caricature - we can do this as well - great for Christmas/greeting cards etc!
Questions? Feel free to Email us
Ordering
Ordering is easy. Simply browse the artist's sample pages (links below, and when you decide on one, click the flag of the currency you wish to use.
Choose your artist by style
Click the faces to see more of their samples
Questions? Feel free to Email us