Monday, March 7th, 2011
There are some people who give gifts and there are others who give GIFTS!!
What is the difference? Simply the reaction of the person receiving the gift. A gift giving Hero gives a gift that has a WOW reaction. A caricature is just that sort of gift.
Drawn from one or more photos, adding some imagination and fun, a caricature is both fun and memorable, giving joy to all.
Here is an example: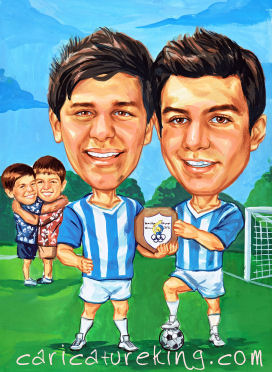 Thank you to all for this great caricature.
I had it printed as a poster and framed it for a nephew's 18th birthday, and to say he was absolutely thrilled would be a gross understatement.
Everyone that has had a look at it, cannot believe the likeness of the boys in the photo and we are absolutely thrilled with the result.
It was a very unique present that, although, being a little pricey, was worth the end result.
Thanks so much for your help and guidance along the way also.
Regards,
Petty.
So why not think about the next occasion where you might need to be giving a gift and browse our artists to find one who you know the recipient will love.