Saturday, January 26th, 2008
This was a job drawn by artist Zalo for a fellow who works in a realtor office. He was after Kris Kringle gifts and decided on having caricatures of each of the staff drawn.
Here is his;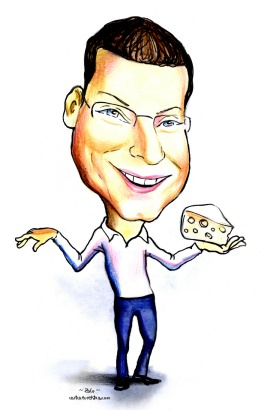 I have also put a few of the others into a bit of a montage.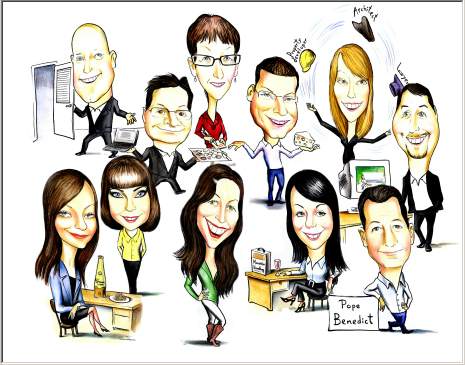 Did he like the work? Even after a WOW email back before Christmas, he kindly took the time to send this email:
Hi Matt,

Happy New Year! I hope you enjoyed your holiday with the family and the Festive Season. Just wanted to let you know our Kris Kringle presents were absolutely fantastic! Everyone loved them.

I had to wrap 17 mugs and 17 A4 prints plus another full set for our company scrap book but it was worth it.

n the morning I made eggnog for everyone, played Kris Kringle (complete with Santa hat) for all the "usual" presents, then sat down and pressed play on my PowerPoint Presentation… Oh my God – people could not stop laughing. I had people randomly chose a number between 1-17 to pick the order, and funnily enough I got 17th. Once I'd made it through everyone, I stopped and then everyone realised I hadn't shown mine – if there was a laugh-o-meter mine would have broken it!

Later, at the Christmas Party, both bosses (including their wives) said it was the best Christmas present ever – with one boss telling me I was irreplaceable.

So thank you again, to you and Zalo for you fantastic efforts.

Will be in touch again soon for the birthday present we spoke about late last year.

Regards
Michael
If you'd like to get a caricature drawn by Zalo, please visit Zalo's page on our website