Accessories: T-shirts, mugs etc
Put your images on items including T-shirts, polo''s, mugs, mouse pads or have them blockmounted. What better what than to round off a special gift!
:: USA and Canada ::
There are a number of options to choose from: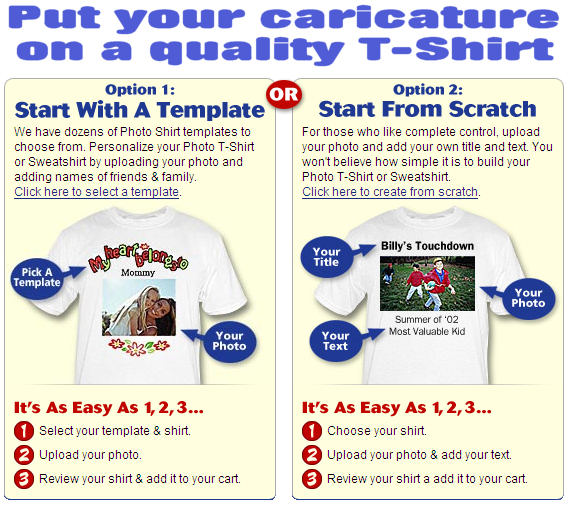 Go to Choice T-shirts NOW Excellent quality t-shirts from just $18.95. You will look great!


iPad sleeves/cases - printed with your caricature for just $45.99 delivered USA!
Alternatively it can be printed with your logo or photo. Read more
Ceramic Coffee Mug holds 10 ozs.; dishwasher & microwave safe. You can also have a caption.
This is a VERY POPULAR way to use a caricature Read more
These heirloom portrait knits are entirely custom made ... this is not screen printing of any sort, rather a true knitted item.
Both afghan and pillow are created in stunning neutral black, white and grey tones as shown. What a great way to use your caricature!!
Deluxe 252-Piece Caricature Puzzle & Tin Deluxe size, rectangular-shaped puzzle includes 252 pieces of fun with the caricature and measures 10 1/2" x 13 1/2". Read more
Canvas Prints Create an amazing work of art from your caricature with our Photo Memories Canvas Prints.
Available in 4 sizes: 12" x 18", 16" x 20", 16" x 24" and 24" x 36".
What a great way to use your caricature!! Read more
Keepsake Watch Have a one-person caricature reproduced on the "face" of this unique, keepsake watch. Available in men's or women's sizes and gold or silver tone case with leather strap. What a great way to use your caricature!! Read more.
Calendar Mouse Pad A must-have staple for every computer user at home or office, our Calendar Mouse Pad now stars your special photo and motivational quote right in the center!
What a great way to use your caricature!! Learn more
Caricature playing cards Deal yourself in for some fun with your very own caricature playing cards! Your caricature is featured on the back of every card. Only 1 caricature can be used for each deck of cards. This 54-card deck comes in a standard bridge-size.
What a great way to use your caricature!! Read more
Embroidered Gingham Quilted Photo Tote Picture perfect photo moments to carry with you everywhere you go! We custom embroider any title in your choice of 15 thread colors, creating a custom one-of-a-kind piece for her alone! Beautifully crafted and stitched black quilt bag features an attractive black and white gingham ruffle top and same gingham check lining inside.
What a great way to use your caricature!! Read More
Canvas Tote Bag constructed of premium weight, natural color, 100% cotton canvas with natural web straps reinforced at stress points to endure small and large loads! Your personalized gift comes with a choice of 10 color schemes and 2 lines of open text: 1 above and 1 below the caricature. Measures 20" x 15" x 5" with squared-off bottom. Machine washable. Imprinted wioth your caricature! Read more


:: Australia ::

Premium Caps - Starting at $24.99 What a fun way to make use of your caricature - wear yourself or a gift for friends and family. Order now

Printing available on reverse side
High-quality caps with adjustable strap
Available in a variety of colours

High-quality T-shirts are a great way to make additional use of your caricature. From A$15.99. Order now

100% preshrunk cotton T-Shirt
Easy to design and order
Available sizes are: S, M, L, XL and XXL

:: UK and Europe ::

Your caricature on a T-shirt. Using the latest printing technology assures you of a great print of your caricature on men's and ladies t-shirts. Choose from a range of styles.
Delivery to UK and Europe. Get your tshirt today!
Photo Mouse Mats


Premium Fabric-topped 4mm thick Mat
Rubber non-slip backing
Permanent print
High definition colour
Height 19cm, width 24cm (Approx)
Full bleed print area
Delivery to UK and Europe.

Order yours now!
Photo Canvas - three sizes to choose from:
13x18"
18x18"
18x26"
80% Cotton canvas, 1.5" deep kiln dried gallery wrap bars, High fidelity reproduction, Hand stretched, Delivery to UK and Europe.
Best to place order for blank canvas then email image to printer for correct sizing. Order now



:: Draw your own caricature ::

Dream of Becoming a Professional Cartoonist? - This 12 step guide to success will show you EVERYTHING you need to know to become a professional cartoonist in literally minutes. And it's JAM-PACKED with content. The course includes an amazing 1028 hand drawn illustrations and 174 pages of quality content.
FREE BONUS - When you decide to try the exciting "Draw Cartoons Today!" course, you'll receive a BONUS "Cheat's Guide" to submitting your work to the top industry markets, as part of step 1. Learn more...